A grand 40-year salute to Alpha Kappa Rho!
Saturday, August 3rd, 2013. Filed under:
Happenings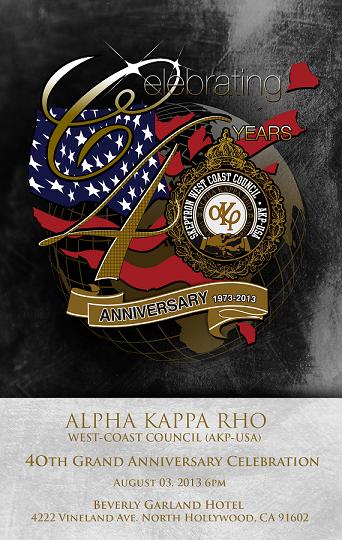 Alpha Kappa Rho (AKP) will be celebrating its 40th Anniversary on August 8, 2013.  As one of the largest international Filipino fraternity and sororities, this milestone will be celebrated in many countries worldwide.
The first chapter was formed in 1973 in the University of Santo Thomas (UST) in Manila on the Feast Day of St. Dominic, patron saint of the school.  The Philippines was under Martial Law and the fraternity was founded to embody the ideas of its members, promote their welfare and spirit of good citizenship and develop closer relationships between students of different schools throughout the world.
The organization flourished throughout the years and currently has 14 registered international councils outside the Philippines, including the AKP USA West Coast and East Coast Councils, Singapore Council, Kingdom of Saudi Arabia East Council, South Korea Council, Japan Council, Canada East Councils, United Arab Emirates Council, Kuwait Council, Bahrain Council, Papua New Guinea Council, Qatar Council, Israel Council and Oman Council.
In Los Angeles, the Skeptrons will hold the 40th Grand Anniversary Celebration on August 3, 2013 Beverly Garland Hotel.  The event is by invitation only to friends and family.
The AKP West Coast Council was established in 2002 by AKP seniors and alumni in the spirit of barkadahan and the good times during their student years.  Years later, they became involved in the Filipino community and is now one of the most active organizations that are instrumental in promoting our culture, keeping our market relevant, supporting other Filipino groups and helping our less fortunate kababayans.
"Giving back to the community has always been in the blood stream of AKP and as fortunate as we are to be in America, we are now able to do this in a really big way," said International Council Chairman Jon Yuson as he and his fraternity brothers and sisters prepare for their latest endeavor as supporters of the 11th Annual Historic Filipinotown Festival and 5K Run.  AKP-USA also works closely with the ABS-CBN International Foundation, GMA Kapuso Foundation, St. Vincent Meals on Wheels, BKP California, Human Development International, Bantay Bata 163, The Health Trust Pet Food Drive, and many other non-profit and charitable institutions.
For more information on AKP West Coast Council's upcoming events and fundraisers, visit their website at www.akp-usa.com.  If you want to meet your local and fellow Skeptrons of Northern America, please call 1-800-ILOV-AKP (1-800-456-8257) or send an email to info@akp-usa.com.
Related Posts :