About Us
The US Asian Post (www.usasianpost.com) – Life & Leisure News for Filipino-Americans.
(LOS ANGELES,CA)  The face of America is changing and the metaphor of the melting pot is being replaced by a multicultural paradigm – a new perspective that is seen through the eyes of various ethnicities.
Can this pave the way to the recognition of Asian contributions to American society, and ultimately, realize the Asian community's dreams of better living?
In the play "Melting Pot," the cultural and political diversities of the main characters who are lovers were the main issues that separated them at first, but ended up being together for the usual fairy tale " happily ever after" ending.
In California and in places where immigrants have settled, mostly in what they call as "blue states or blue districts," melting pot is best described by some traditionalists as a pressure cooker ready to explode.
But a closer look reveals that such more liberal cities and suburbs are also the more advanced, affluent and tolerant.
Thomas Friedman, in his book, "This Used to Be Us," described how in the last seven years the United States has become just a role player, a big drop from its "customary" title as the dominant one. The United States remains the number one superpower, no doubt,  but recent hackings of government websites and worse, the exposés made by WikiLeaks, showed just how vulnerable America is in terms of technology.
The dawn of the 21st Century has also exposed the weakness but actually the openness of capitalism in a system whereby anyone can start a business and be fully rewarded, or become an established professional educated by schools funded by the government –privileges that are still not present in most countries.
It is for these very reasons that many Asians have come to America. Not to escape or because of fear of political reprisals – although many are or were ruled by dictators – but be part of a nation where these freedoms and advantages are promoted.
In coming out with USAsian Post – in a broadsheet format to portray how big we've become – we will present a clearer picture on how Asian culture plays a major role in the more progressives cities of America.
USAsian Post is a contemporary newspaper that features a collaboration of the best Asian artists, photographers, writers and gurus of our time – to provide our readers an avenue where they can a peer through a kaleidoscope that encompasses our mixed Asian heritage that is actually helping to evolve the lifestyles of the modern American, where spam musubi,  pad see yew, pho and loompia have been added to the sushis, shashimis and other Asian cuisine lingo.
Here are more concrete reasons why Asians are a force: We are the most highly educated ethnic group – 85.2% of Asians are High School graduates or higher; an estimated purchasing power of $509 billion; and 45% of Asians make over $75,000 and 32% make over $100,000 annually. There's more. Just look around you, read the labels of the clothes you wear, the things you buy. Need we say more?
Paraphrasing Rico Foz of the National Alliance for Filipino Concerns, he said it best when he posted these words on facebook: cultural diversity is more like a salad rather than a melting pot when mixed together – it's healthier, colorful and more nutritious.
Dear readers, one behalf of the publishers of Balita Media Inc., let us celebrate our culture, insights and journeys – as individuals and as a community. (RFL)
There are 14.7 million Asians in the U.S.
 There are 6.7 million Asians in the West Coast, 3.6 million in the East Coast,
3.2 million in the South and 1.7 million in the Midwest.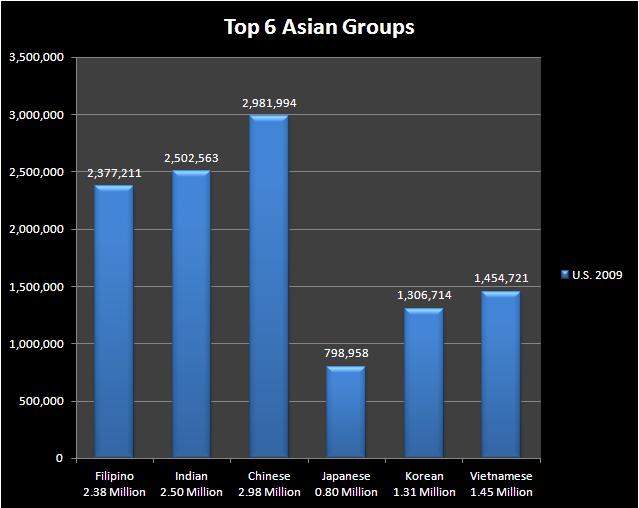 There will be at least 16.5 million Asians in the U.S. by 2015
Source:  U.S. Census Bureau 2010 Census Restricting Data (March 2011),
2009 American Community Survey, Projections of the Asian Population 2000
For more information, contact USAsian Post at 818-552-4503
Or via E-mail at info@usasianpost.com
The US Asian Post C/O Balita Media, Inc. 520 E. Wilson Ave. Ste. 210 Glendale, CA 91206 Phone: 818-552-4503 Fax: 818-550-7635 E-mails: info@usasianpost.com, info@balita.com, Websites: www.usasianpost.com and www.balita.com.