ADVISORY EXTENSION OF VISA-FREE ENTRY FROM TWENTY-ONE (21) DAYS TO THIRTY (30) DAYS UNDER E.O. 408
Saturday, July 27th, 2013. Filed under:
Local News
Los Angeles, 23 July 2013 – In line with the Philippine Government's efforts to update its visa policies and further encourage tourism in the Philippines, the visa-free privilege granted to one-hundred fifty-one (151) countries is hereby extended from twenty-one (21) days to thirty (30) days. Israel and Brazil shall remain eligible for 59-days visa free entry pursuant to existing bilateral agreements with the Philippines, effective 01 August 2013.
Requirements for visa-free entry:
1. A national passport valid for at least six (6) months beyond the contemplated stay, and
2. A return ticket to the country of origin or onward ticket to the next country of destination.
NO-VISA ENTRY FOR 30-DAYS STAY UNDER E.O. 408
Countries whose nationals may enter the Philippines without a visa for a stay not exceeding thirty (30) days under E.O. 408, provided these foreign nationals are holders of a passport valid at least six (6) months, beyond the period of stay in the Philippines and return or outward bound tickets to country of origin or next country of destination.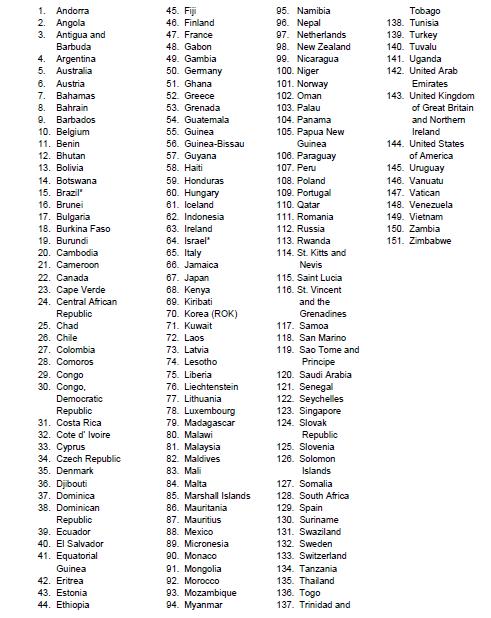 *The following are allowed to enter the Philippines without a visa for a stay not exceeding fifty-nine (59) days
*The following are allowed to enter the Philippines without a visa for a stay not exceeding fifty-nine (59) days:
1. Holders of Brazil passports; and 2. Holders of Israel passports
The following are allowed to enter the Philippines without a visa for a stay not exceeding seven (7) days:
1. Holders of Hong Kong Special Administrative (SAR) passports 2. Holders of British National Overseas (BNO) passports 3. Holders of Portuguese Passports issued in Macao 4. Holders of Macao Special Administrative Region (SAR) passports
Related Posts :