Balita announces Easter Makeover raffle promo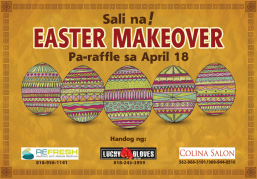 LOS ANGELES, Calif. (March 19, 2014) – Weekend Balita and the US Asian Post, in cooperation with REFRESF Aesthetic and Lifestyle Medicine, Lucky Gloves Gym and Colina Salon present the "Easter Makeover" raffle promotion from March 15 to April 18, 2014. Eight lucky participants may have the chance to win any of the following prizes: a 1st prize of beauty salon services, one month gym classes and six sessions of Tripollar skin tightening and body contouring treatment; a second prize of beauty salon services and 1 month gym classes; or one of six consolation prizes.
The Tripollar treatments, courtesy of REFRESH, deliver immediately visible skin tightening and body contouring results without surgery or downtime. It utilizes third generation radio frequency technology for pain free, long lasting results. For more services, call 818-956-11414 or visit www.refresh-la.com, located at 1141 E. Colorado Blvd., Glendale, CA 91205.
The one month gym classes, courtesy of Lucky Gloves Gym, apply to Kickboxing, Boxing and TRX classes lead by highly experienced instructors, including former World Heavyweight Champion, Eddie "The Animal" Lopez, up and coming pro-kickboxer, Aram Bebekyan and Glendale orthopedic surgeon, Dr. Levi Harrison. Also includes access to full gym amenities. For class schedules and gym hours, call 818-243-3959 or visit www.luckyglovesgym.com, located at 725 E. Broadway, Glendale, CA 91205.
The salon services, valued at $50.00 each, will be provided by Colina Salon, with two locations, 3505 Long Beach Blvd, Ste. 2E, Long Beach, CA 90807 (562-988-101) and 6753 Carnelian St., Rancho Cucamonga, CA 91730 (909-944-8596). Visit their website at www.colinasaloninc.com.
To join the contest, complete and submit the entry form found in Weekend Balita, the US Asian Post or on Balita.com/easter. The raffle draw will be held on April 18, 2014.
Related Posts :