Binibining Pilipinas USA seeks licensees for U.S. regional pageants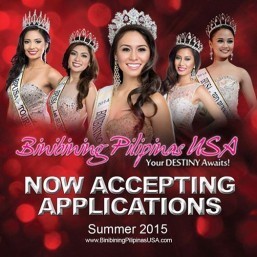 Los Angeles – In preparation for its upcoming 3rd annual BINIBINING PILIPINAS USA 2015 Pageant ("Your Destiny Awaits!"), scheduled for August 2015, in Los Angeles, CA, the Binibining Pilipinas USA organization announced today that it is seeking regional/local pageant directors from various regions around the United States to operate, manage, and conduct official local pageants or candidate searches, with an eye towards finding the next Binibining Pilipinas USA queen.
"There isn't a more effective way to reach every corner of the Filipino community in the U.S. than to partner up with our supporters in other states," said President/CEO Mildred Deang. "Our future partners outside of Southern California live in large communities where many beautiful Filipinas live, and we look forward to working with them to find our next titleholder," she added. This prestigious national pageant seeks those special young women in today's Filipino-American communities who not only have the beauty, grace and elegance to compete on an international level, and who also have the dynamic personalities that set them apart from the rest.
Interested parties are urged to contact pageant organizers through Associate Producer, Joey Galon, for further inquiries. He will work closely with regional competitions to find the best candidates to send as representatives to the national pageant in Los Angeles. Regional pageants shall be completed by May 2015 in order to provide candidates sufficient time to prepare for the national pageant. Details of the regional licensee responsibilities will be outlined in writing, so get in touch now. (Soli Deo Gloria)
Related Posts :