Celebrate Asian New Year with the Lucky Lion Dancers at Pechanga Resort & Casino
Tuesday, February 4th, 2014. Filed under:
Happenings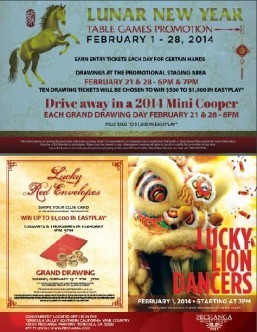 Get ready to usher in the Year of the Horse with Pechanga Resort & Casino. Many Asian cultures including Chinese, Taiwanese, Korean, Vietnamese, Indonesian, Malaysian and more mark the lunar New Year in 2014 on Friday, January 31. The very next day, Pechanga Resort & Casino invites everyone to celebrate the fun and festivities with a free performance by the Lucky Lion Dancers starting at 3:00p.m. The "lion" awakens and begins its opening sequence at the Pechanga Hotel Valet entrance and works his way throughout the casino floor. Pechanga Resort & Casino executives will follow the lion dancers and pass out lucky red envelopes to guests who can then feed them to the lion as a traditional sign of good luck.
If winning a brand new car sounds like a great way to ring in the New Year, make plans to come to Pechanga Resort & Casino. Between February 1 and February 28, table games players who win specific hands in Baccarat, Pai Gow and Blackjack will win entry tickets for the Grand Prize drawings on Friday, February 21 and Friday, February 28. At 6:00p.m. and 7:00p.m. each Friday, 10 entrants will be chosen to win $500 or $1,000 in Pechanga Easyplay®. One lucky player each night will drive home in a brand new 2014 Mini Cooper, each worth more than $20,000.
The month of February lets Pechanga players become even luckier with the Lucky Red Envelopes promotion. Each Tuesday and Thursday during the month, Pechanga Club Card holders can swipe their member card at kiosks across from the Pechanga Box Office. Each time someone swipes, he or she can win up to $1,000 in Pechanga Easyplay. Those who swipe to win are also automatically entered into the Grand Drawing taking place on Sunday, February 23. Each hour between 1:00p.m. and 7:00p.m., 10 players will be chosen to win up to $5,000 in cash.
About Pechanga Resort & Casino
Pechanga Resort & Casino offers the largest and most expansive resort/casino experience anywhere in the western United States. Rated a Four Diamond property by AAA since 2003, Pechanga Resort & Casino provides an unparalleled getaway, whether for the day or for an extended luxury stay. Offering more than 3,000 of the hottest slots, table games, world-class entertainment, 517 hotel rooms, dining, spa and golf at Journey at Pechanga, Pechanga Resort & Casino features a destination that meets and exceeds the needs of its guests and the community. Pechanga Resort & Casino is owned and operated by the Pechanga Band of Luiseño Indians. For more information, call toll free (877) 711-2946 or visit www.Pechanga.com. Follow Pechanga Resort & Casino on Facebook and on Twitter @PechangaCasino.
Related Posts :