Colorful PHL, other cultures shown in Asean Fest in Los Angeles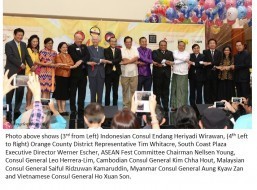 Los Angeles  – The Philippine Consulate General, led by Consul General Leo M. Herrera-Lim in cooperation with the Philippine Department of Tourism in Los Angeles and Tourism Director, Mr. Richmond Jimenez, participated in the  LA-ASEAN Fest 2016 held at the South Coast Mall in Costa Mesa, California on 04 June 2016.   It was a unique and extraordinary ASEAN Community based event featuring various ASEAN cultures in Los Angeles.
LA-ASEAN Fest 2016 is a five-hour event of fashion, music, trade and art show.  Its goal is to unify the spirit of ASEAN Community in greater Los Angeles to showcase the creations of promising artist and performers.
It was well participated by the ASEAN member nations, members of the media, bloggers and public elected officials.
The event was held in South Coast Mall, an upscale-luxury goods shopping center in Costa Mesa, California in Orange County and the largest mall on the West Coast of the United States with an annual visitor count of 24 million.
The Philippine Consulate General and the Philippine Tourism-LA promoted Philippine tourist destinations.  The Philippine booth drew many positive comments from the participants of the festival, as well as the shoppers of the Mall:
– A Philippine born lady who has not been back to the Philippines for 29 years said, "I visited (with my non-Filipino spouse) last year and we were really amazed on the beauty of the Philippines.  We are planning to visit the Philippines yearly basis;
– A Vietnamese Refugee who lived in Bataan happily shared his good experience during his stay in the Philippines and said "I am so excited in going back to the Philippines to visit the underground river in Palawan."
– Several foreign visitors who said that they had visited the Philippines long time ago, happily shared with us that they want to visit the Philippines again and again.  Most of them took brochures on the various tourist destinations of the Philippines.
The Philippine cultural presentation during the program received a great applause from the audience.  The "Tinikling" became the crowd drawer, particularly when the performers requested for volunteers to do the dance.
The organizer commented that the Philippine cultural presentation was a great number to end the program.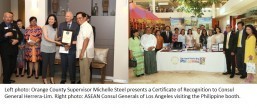 Related Posts :