Kerwin Espinosa's aides nabbed for murder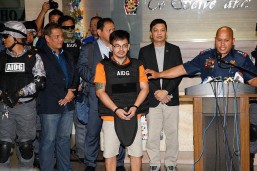 ORMOC CITY, Leyte, Jan. 7 (PNA) – Two trusted aides of detained drug lord Kerwin Espinosa were arrested in two separate police operations on Saturday morning in this city.
Supt. Federico Sanchez, deputy Leyte police provincial director for operations said arrested for murder charges were Jesus Tolin and Brian Anthony Saldivar.
Tolin was arrested at 7:10 a.m. at a national road along Macabug village on board a single motorcycle while heading to the city.
He left his home in Mabini, an upland village located some seven kilometers away, minutes earlier. The arresting team confiscated one caliber 45 gun with a magazine loaded with nine live bullets.
The arrest of Saldivar was made minutes after Tolin's fall, around 8 a.m. The suspect was inside his house in Luna village, about 12 kilometers away from the city center. The police did not seize any prohibited item from him.
Sanchez said the daytime arrest for Tolin was a good timing, citing intelligence reports that he is dangerous being armed.
The two were named in the warrant of arrest issued by Regional Trial Court Branch 14 presiding judge Carlos Arguelles along with the younger Espinosa, who is now detained at the National Bureau of Investigation.
A relative of one of the suspects said, this murder offense allegedly stemmed from the death of Gregorio A. Velarde, Sr. of Albuera, Leyte, a year ago that was believed to have already been settled. No bail is recommended for their case.
It was at the height of the government's anti-drug war last year, when Tolin and Saldivar individually surrendered to Chief Insp. Jovie Espenido, then Albuera police chief. Tolin turned over a gun when he yielded to authorities.
They separately submitted themselves after the elder Espinosa appealed to them and three others to surrender.
Mayor Espinosa himself voluntarily surrendered to Espenido. He was killed while detained at the Leyte sub-provincial Jail based in Baybay City on Nov. 5, a month after he was jailed for illegal possession of drugs, illegal possession of firearms and ammunitions, among others, offenses filed along with son Kerwin.
Tolin and Saldivar were temporarily detained at the local police station lock up and scheduled to be presented at the Baybay City court on Monday, according to Sanchez.
The arresting team was composed of Leyte provincial police office, provincial police safety company, provincial intelligence bureau and Ormoc City public safety company.
Meanwhile, the local police here continues intensive investigation over the killing of Ferdinand Rondina Friday evening, who was tagged as level two target being connected to illegal drugs activities.
Chief Insp. Omar Cartalla, officer in charge of Ormoc police station 1 said Rondina was shot dead by unidentified suspects early Friday evening while watching television program outside his house in Mabini St. here.
Eyewitnesses said the culprits wore bonnet and hooded jacket.
Jenjen Pacañot, the victim's sister said two men who acted as lookout stood at a passage exit while another two appeared at corridor from inside the village, approached and shot Rondina.
The victim was rushed to the hospital but was declared dead on arrival.
The Scene of the Crime Operatives recovered 10 fired cartridges and three deformed slugs of suspected caliber .45 gun.
The younger Espinosa named Rondina as one of his drug dealers, based in Ormoc City.
He had surrendered in the local police on July and voluntarily submitted to Espenido in Albuera police station after being linked to the Espinosa drug group.
Pacañot firmly said his brother already stopped in the illegal drug trade after he surrendered to Espenido. In fact, he had turned himself to therapeutic activities and often talks with a preacher.
The level 2 drug target has pending case of illegal possession of firearm at Ormoc court.
Related Posts :