Lakambini ng Kalayaan Cultural Pageant June 3 at YMCA Glendale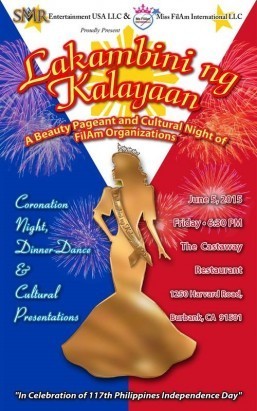 Los Angeles – The Lakambini ng Kalayaan 2016 is calling on all Filipino American organizations for participants in the cultural pageant of community organizations in Southern California slated for June 3, 2016 in Los Angeles at the YMCA Glendale located at 140 N.Louise St. Glendale CA 91206.
This year's main sponsoring organizations for the pageant is the Young Men's Christian Association (YMCA)-Glendale. Other sponsoring organizations are Historic Filipinotown Neighborhood Council (HFNC), Justice for Filipino American Veterans (JFAV). Knights of Rizal-Historic Filipinotown Chapter (KOR-HFT) Pilipino Institute of Language Arts and Culture (PILAC),Filipino American Service Group Inc (FASG) and the Filipino American Community of Los Angeles (FACLA) Inc..
The winner of the Lakambini ng Kalayaan will serve as muse of the 4th Historic Filipinotown Philippine Independence Day Parade that will take place in the morning of June 4, a Saturday.
Ms. Bernie Ganon, Lakambini Ng Kalayaan president said coronation Night will be on June 3.
Ganon said, criteria and requirements for candidates will be announced later.
She said Lakambini is accepting organizations' participation for their candidates. Participation fee for each candidate costs $300.
Ms. Rosemarie Mejia representing FASGI was crowned as Ms. Lakambini ng Kalayaan 2015 at the Castaway Restaurant in Burbank last year.
For more information and applications please call Benrie at (323) 487-9804 or Sid at(213)399-5042 or visit the LAKAMBINI Facebook page.
Related Posts :