MUAY THAI KICKBOXING SET TO STRIKE FAN EXCITEMENT AT PECHANGA RESORT & CASINO THIS SUMMER
Tuesday, August 13th, 2013. Filed under:
Happenings
– Women Fighters Take Center Stage in Fights to Be Broadcast on FSN PrimeTicket –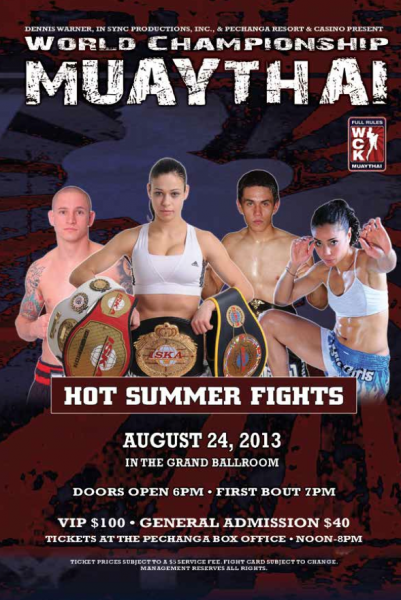 TEMECULA, Calif. – Ten hard-hard hitting WCK Muay Thai Kickboxing fights with several major titles on the line are set for Saturday, August 24 at Pechanga Resort & Casino. Muay Thai fans should mark their calendars for the World Championship Muay Thai Hot Summer Fights. As the 20 contenders train and condition for what could be career-changing bouts, fan excitement ramps up with comments posted on Facebook such as "Nice card of fights" and "Got My Tickets!" The bouts are scheduled to be broadcast on FSN PrimeTicket and FSN San Diego. Tickets for the full night of Muay Thai action are $40 and $100 and are on sale at the Pechanga Resort & Casino Box Office between 12:00p.m. and 8:00p.m., via telephone at (877) 711-2946 or online at www.Pechanga.com/Entertainment.
Starring in the main event are Miriam "The Queen of Mean" Nakamoto (14-0) from the San Francisco Bay Area and Aleide Lawant of the Netherlands. In 2010, Nakamoto became the first American woman to win the WBC Muay Thai World Title. She is considered to be one of the best female strikers in the world. Lawant is the winner of the 2011 Enfusion tournament, a women-only reality show tournament filmed in Thailand.
Luis Bio of Ensenada, MX is an industrial engineer and business analyst in a GPS and sonar manufacturing plant by day and spends his other waking hours training and preparing for fights that will move him up the circuit ranks. Bio is defending his WBC Muay Thai title. He takes on Raul Rodriguez of Bakersfield, Calif with a record of 11-1.
Hailing from the San Diego, Calif. area,  Mike Lemire, (9-1) a current WCK Muay Thai World Champion, professional MMA fighter and Muay Thai and boxing instructor, steps in the ring with Ryan Madigan, a former UFC competitor (28-6),to face off for the cruiserweight WBC title.
Rounding out the top fights of the night are Josh Aragon vs. Guilherme Silva and Dave Pacheco vs. James Steelsmith.
Five other fights, one including Lena Ovchynnikova vs. Emily Beardan for the IKKC Muay Thai World Title, are on the card for the same night at Pechanga Resort & Casino.
For tickets and more information, call (877) 711-2946 or visit www.Pechanga.com/Entertainment.
About Pechanga Resort & Casino
Pechanga Resort & Casino offers the largest and most expansive resort/casino experience anywhere in the western United States. Rated a Four Diamond property by AAA since 2003, Pechanga Resort & Casino provides an unparalleled getaway, whether for the day or for an extended luxury stay. Offering more than 3,000 of the hottest slots, table games, world-class entertainment, 517 hotel rooms, dining, spa and golf at Journey at Pechanga, Pechanga Resort & Casino features a destination that meets and exceeds the needs of its guests and the community. Pechanga Resort & Casino is owned and operated by the Pechanga Band of Luiseño Indians. For more information, call toll free (877) 711-2946 or visit www.Pechanga.com. Follow Pechanga Resort & Casino on Facebook and on Twitter @PechangaCasino.
Related Posts :