Palace confident of sustaining soaring tourist arrivals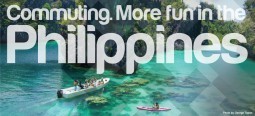 Malacanang said it is confident that the government could sustain the growing influx of tourists coming to the Philippines after posting four million arrivals for 2012.
The Philippines has surpassed the four million visitor arrival mark for 2012 posting a total of 4,272,811 foreign visitors last year. This figure is a 9.07 percent increase from a total of 3,917,454 visitors recorded in 2011.
Among the government thrusts to sustain this momentum is to expand the country's infrastructure particularly in the tourism sector, Presidential spokesman Edwin Lacierda saeid in a press briefing in Malacanang on Thursday.
Another plan is to remove the common carriers tax so that more tourists come in, he said, adding however that the move would also mean foregoing foreground revenue of about P1.1 billion.
"We expect more tourists to come in and they will be spending more here in the Philippines. That's why we have been making sure that we are prepared for the onslaught of tourists and that's the promise of Secretary Mon Jimenez," Lacierda said.
"We are doing that. Secretary Jun Abaya is also making sure that infrastructure for tourism will be in place."
With regards to concerns on enough number of hotels and vehicles for the tourists, Lacierda acknowledged the problem noting the issues are already being addressed by concerned government agencies.
"Insofar as the hotels are concerned, we have the Entertainment City—kasama na 'yun. Ang sa transportation, that's also being addressed; kasama rin doon ang traffic situation," Lacierda explained.
While the Philippines was able to breach the four million mark, it fell short of its 4.6-million tourist arrival target.
The Department of Tourism (DOT) said this shortfall is due to economic and political uncertainties in the country's traditional markets such as US, Europe and China.
The DOT however expressed confidence that it is on track in achieving its goal of 10 million tourist arrivals by 2016.
South Korea remains the biggest market for the Philippines, according to the DOT. South Korea is the first country to contribute one million visitors in 2012, it said.
The US ranked second with 625,626 visitors, followed by Japan with 412,474 visitors.
Related Posts :